Valley Resident Anneka Williams Receives National Scholarship
August 10th, 2017
Valley resident, Anneka Williams has been awarded a $2,500.00 scholarship from the Foundation for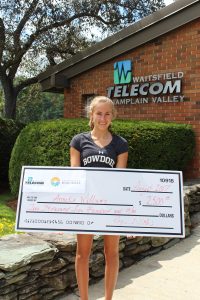 Rural Service (FRS).   FRS is a charitable foundation and was founded by the NTCA – The Rural Broadband Association, an organization representing independent, community based telecommunication companies.  Anneka was nominated by Waitsfield and Champlain Valley Telecom (WCVT), who is an active member of NTCA.
"We congratulate Anneka on her efforts as she is definitely deserving of this honor.  We wish her the best of luck as she starts her college career at Bowdoin this month," said Roger Nishi, Vice President of Industry Relations for WCVT.
FRS provides a variety of programs, ranging from youth-based initiatives and educational materials to consumer awareness and rural economic development. The FRS Scholarship Program is made possible through the generosity of independent telecommunications companies operating in rural areas across the United States and Canada and the companies that provide goods and services to these companies.