Waitsfield and Champlain Valley Telecom to Partner with Pinnacle Publishing to Produce Mad River Valley Directory
January 31st, 2017
Waitsfield and Champlain Valley Telecom is pleased to announce a new partnership with Pinnacle Marketing Group to publish the 2017 Mad River Valley Directory.  Pinnacle Marketing Group specializes in publishing community directories for independent telephone companies throughout the United States. Representatives from Pinnacle will begin reaching out to Valley businesses by the end of the month to discuss advertising opportunities in this year's directory.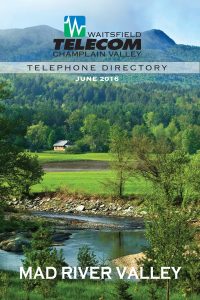 The Mad River Valley Directory will be distributed to approximately 6,500 households, businesses, and other high profile tourist areas throughout the Mad River Valley.   Special features including the community interest pages and local history profile continue to make it the book of choice among Valley residents and tourists.
For more information, please contact Alan Jones, Directory Manager at 496.8328 or ajones@wcvt.com.