Google Apps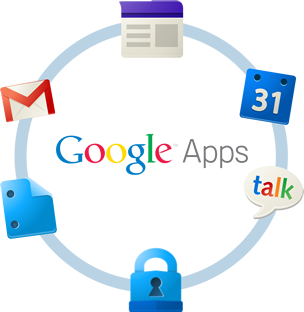 Your Green Mountain Access high-speed Internet service offers you complete access to the Google Apps™ suite of services including:
Email
Calendar
Contacts
Drive / Docs
Mobile Apps
And more!
Features
Email
An easy to use and powerful email platform with lots of storage.
15 GB of storage space for email and Drive.
Built in Spam and Virus Protection.
No Advertising or Screening: Unlike free Gmail, our Google Mail implementation is ad-free.
Powerful search allows you to quickly and easily find the message you are looking for.
Local Technical Support: We're close by and here to help!
Drive / Docs
You can now store your files in the Cloud with Google Drive. In addition, create, store, and share documents, spreadsheets, presentations and more with Google Drive — No Software Required!
Access everything in your Google Drive from all your devices – You can also access your files from your computer, smartphone, and tablet. You can even get to your files after you go offline.
Keep files synced – Just connect to the web — it's pretty much automatic. Change something on one device and it changes everywhere.
Store 15 GB of your stuff for free – Store up to 15 GB of your files of any type, including documents, pictures, spreadsheets, videos and mail.
Stop emailing attachments. Start sharing – Google Drive lets you choose exactly who — friends, family, colleagues — gets your files.
Contacts
Google Contacts is an easy way to store and organize all of the contact information about the people with whom you communicate.
Google Contacts integrates with all Google Apps such as Mail, Drive, and Calendar through the auto complete function — a great timesaver.
Allows you to send email, share documents, and schedule appointments without having to look up contact information in a separate tab or window.
Synchronize contacts between Google Contacts and a mobile device to see contacts outside of a browser. Add or change a contact on your phone and it will automatically appear in your Google Apps Contacts and vice versa.
Calendar
Share your schedule – Let your co-workers, family, and friends see your calendar, and view schedules that others have shared with you.
Get your calendar on the go – Access your calendar while you're away from your desk.
Never forget another event again – Customizable reminders help you stay on schedule.
Send invitations and track RSVPs – Invitations can be sent to anyone with an email address, even if they aren't on Google Mail. Guests can RSVP to your events by email or via Google Calendar.
Sync with your desktop applications – Access your calendar however and whenever you want.
Work offline – Know where you're supposed to be even when you don't have Internet access.
Get Help with Google Apps
Our Internet Technical Support team is available 24/7 to assist you and answer any questions you may have.
Our Business Account representatives are also available to meet with you to discuss your Green Mountain Access Internet services and Google Apps features and how they can work for you.
Do you currently have Internet service with us but do not use a Green Mountain Access email account? No worries, you can still get set up for access to Google Apps by contacting our Technical Support team.