Beefing up Cornerstone Burger Co.
April 14th, 2017
VickeryHill teamed up with WCVT to help this restaurant make the most of technology
A burger is better when it has the right combination of toppings. Likewise, the right combination of companies working together can take a strong concept and make it even stronger. In 2015, Cornerstone Restaurant Group partner Keith Paxman sought the advice of VickeryHill, a company that builds solutions for businesses using internet technology. VickeryHill offers web development, web design, content management systems, 3rd party integrations, analytics, ecommerce, and web marketing. Cornerstone Restaurant Group was planning to open an additional restaurant in Northfield with a 'burger and a beer' concept, and Paxman asked if VickeryHill could help develop the branding, website, social platforms, etc.
Customers are Hungry for Connections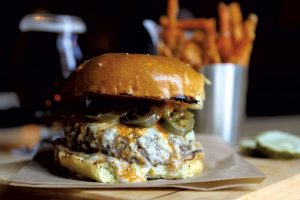 Co-founder of VickeryHill, Steve Butcher, notes, "We visited the location for Cornerstone Burger Co. in the middle of the renovation, and the first thing I noticed after walking through the front door was how the cell phone signal went from weak to non-existent. Keith and I discussed the design, the relationship to their existing Cornerstone Pub & Kitchen restaurant, and how he wanted to be able to connect to more people to drive traffic. We also talked about the sound system and using Dropcams for security and time-lapse videos for marketing. Lastly, we identified the challenge that as the Cornerstone Burger Co. was currently equipped, their customers would not be able to get their internet 'fix' while inside the restaurant."
Butcher continues, "Cornerstone Restaurant Group already had a modest broadcast email list from their other two locations, but this was an opportunity to make some lemonade out of lemons. I explained to Keith Paxman how he should setup Wi-Fi access for customers and require people to give their email addresses for access. I demonstrated how we could use Waitsfield and Champlain Valley Telecom's Managed Business-Class Wi-Fi to cover the restaurant, bar, and kitchen areas with reliable wireless internet access and automatically send the email addresses to his existing MailChimp broadcast email list. These email addresses would be for happy customers and ideal for use to send out emails of future specials and events."
Burgers and Birthdays
Co-owner Paxman took this idea a step further with the suggestion that Cornerstone Burger Co. ask customers for their birthdays as well. He explains, "I wanted to make it worthwhile for customers to join our email list. So I came up with the strategy of offering a birthday present in the form of an email offering a percentage discount equal to their age off their meal when they visited during their birthday week. For example, if an email subscriber was a man turning 76, he would get 76 percent off the price of his meal (excluding alcohol, tax, and tip). If his wife turned 59 a few months later, she would get 59 percent off her meal during her birthday week."
VickeryHill loved the birthday idea and knew just how to successfully implement it. Waitsfield and Champlain Valley Telecom set up the Ruckus Wireless access point in the restaurant and created the captive portal page that every user would be required to see and submit. VickeryHill hooked it up to MailChimp's API (application program interface) to automatically add the user's email and birth date to the Cornerstone Newsletter list as they requested internet access. They then created the automation within MailChimp to automatically check each morning at 9:45am for anyone with a birthday seven days out and send that subscriber the birthday present.
It's been six months since this technology was put in place for Cornerstone Burger Co. and the restaurant is hitting its stride. Notes Paxman, "The weekend traffic is great, and weekdays are steady and growing. Every week we get visits from birthday customers who almost always bring in family or friends to share in the celebration. They're happy to get the birthday discount, and we're happy to give the discount on one person's meal to drive off-peak traffic into the restaurant."
In addition to being pleased with the birthday program, the customers of Cornerstone Burger Co. appreciate the connectivity of the restaurant's Wi-Fi network. Butcher says, "The email subscriber list is growing at an average of 33 subscribers a month. With their expansion into catering, off-site events, and management of a golf course pub, Cornerstone Burger Co. now has another valuable tool in its toolbox to drive more interest and traffic."
To find out how Business-class Wi-Fi can not only help you manage public and private WiFi, but also drive business:
or call Kris Merchant, Sales Manager @ (802) 496-8554