Congratulations to our 2021 March Mania Contest Winners!
April 6th, 2021
In the end it was Baylor beating Gonzaga … at the end of our 2021 WCVT March Mania contest it was: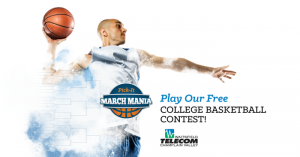 1st Place – Charlie Kantor – $200.00 Gift Certificate to Basin Harbor Resort in Ferrisburgh
2nd Place – Eleanor Hagopian – $100.00 Gift Certificate  to American Flatbread in Waitsfield
3rd Place – Patrick Slater – $75.00 Gift Certificate to the Bobcat Cafe in Bristol
4th Place – Vic Dumas – $50.00 Gift Certificate to Stone Corral Brewery in Richmond
5th Place – Don Rinker – $30.00 Gift Certificate to Hinesburgh Public House in Hinesburg
Congratulations winners and thanks to all our amazing local businesses for the great prizes! Hope everyone had fun playing our March Mania contest. Until next year folks … and we're onto baseball. Go Sox!