Waitsfield and Champlain Valley Telecom Announces Scholarship Recipient
May 22nd, 2023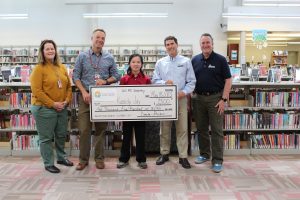 Champlain Valley Union student Kassidy Jay has been awarded a $2,500.00 scholarship from the Foundation for Rural Service (FRS). Founded in 1994, FRS is the philanthropic arm of NTCA–The Rural Broadband Association, of which Waitsfield and Champlain Valley Telecom is a member.
The FRS Scholarship Program awards one-time scholarships to students from rural communities for their first year of college, university, or vocational-technical school. Each student is sponsored by an NTCA member company that may also contribute a portion of the scholarship award. This year, FRS awarded a total of $124,000 for 42 scholarships to students across the country.
"Providing opportunities for young people in rural communities is a core mission for FRS. We are proud to partner with NTCA member companies and generous individuals in the industry to make these scholarships possible each year. A big congratulations to Kassidy," said Pam Becker, Executive Director of FRS.
"Being selected to receive one of this year's FRS scholarships was not an easy accomplishment. This was an extremely competitive process, with over 1,200 applications received. Kassidy's application was stellar and highlighted not only her academic dedication but pride in her rural community. We wish her the best of luck as she starts her college career this fall at Salve Regina University," said Kurt Gruendling, Vice President of Marketing and Business Development for WCVT and FRS board member.
###
About The Foundation for Rural Service
The Foundation for Rural Service (FRS), the philanthropic arm of NTCA–The Rural Broadband Association and its members, seeks to sustain and enhance the quality of life in rural America by advancing an understanding of rural issues. Through scholarships, grants, and a variety of educational programs, FRS focuses on educating rural youth, encouraging community development and introducing policymakers to challenges unique to rural communities. Visit us at www.frs.org.
NTCA–The Rural Broadband Association is the premier association representing nearly 850 independent, community-based telecommunications companies that are leading innovation in rural and small-town America. In an era of transformative technological advancements, regulatory challenges and marketplace competition, NTCA members are leading the technological evolution for rural consumers, delivering robust and high-quality services over future-proof networks that make rural communities vibrant places in which to live and do business. Because of their efforts, rural America is fertile ground for innovation in economic development, e-commerce, health care, agriculture and education, and it contributes billions of dollars to the U.S. economy each year. Visit us at https://www.ntca.org
About Waitsfield and Champlain Valley Telecom:
Waitsfield and Champlain Valley Telecom is a third generation, family-owned telephone company serving the Mad River and central Champlain Valley regions of Vermont and has been providing telephone service to the Mad River Valley since 1904. As a locally owned Vermont company, WCVT is committed to its local communities, and recognizes the extreme value in deploying the most advanced communications services to ensure its rural communities are connected to their urban counterparts with similar quality service. WCVT makes significant capital investment in its network on an annual basis, continuing its network evolution in bringing higher broadband speeds and greater reliability to a larger number of our extremely rural and high-cost locations in our service area. As a 118-year-old, family owned, local Vermont Company, WCVT is uniquely positioned to bring a 100% gigabyte capable fiber-optic network to Vermont's rural communities.