GMA Video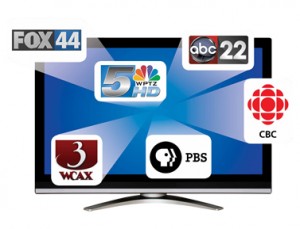 Are You Looking To Pay Less For TV?
GMA Video might be just what you're looking for. GMA Video is a great new way to get your local channels plus all kinds of streaming options. Best of all, it's only $19.95*/month.
Get all of your local channels: including WCAX (CBS), WPTZ (NBC), CBMT (CBC), WFFF (FOX), WVNY (ABC), Movies, CW Plus, MeTV, WETK (Vermont Public Television PBS), PBS Create, PBS Kids, WCFE (Mountain Lake PBS), NHK and PBS Plus.
As well as quick access to Netflix, Amazon Instant Video and Hulu Plus.
GMA Video May Work With Your Existing Roku Player
GMA Video service works with current generation Roku LT, 1, 2, and 3 players and Streaming Stick. Don't have one – rent a Roku Streaming Stick for only $3.25 monthly or purchase for $49.99.
PLUS Access Your Subscription Video And Music Players
Quick access to Netflix, Amazon Instant Video and Hulu Plus. Plus your Roku player offers you access to over 1,000+ channels of additional free, subscription-based and pay-per use options
GMA Video Subscribers Can Also Watch GMA Video on an iPhone, iPad, or Safari on a Mac
GMA Video subscribers can even watch GMA Video on their iPhone, iPad, iPod Touch, or with Safari on a Mac. You must be connected to your GMA high-speed Internet connection within your home.
Give us a call at 800-496-3391 or send us an email to learn more about GMA Video.
Here's What Our Customers Are Saying About GMA Video Service
"Local channels plus local, friendly and available tech help."
"Price, plus it won't go out during bad weather."
"Finally being able to watch the Super Bowl, the Olympics, PBS and local news."
"Finally being able to get local programming. And now that streaming is available on i-devices and the Mac, it's super!"
"The fact that we are only paying for channels we watch, the price is right and we get HD versions."
GMA Video service installation instructions
*GMA Video service is available to Green Mountain Access high-speed Internet customers only. Requires Roku player, Internet speeds of a minimum of 4Mbps, a wired or wireless router to connect the Roku player, a high-definition TV and HDMI cable. GMA Video works on newer generation Roku 1, 2, 3 and LT models. GMA Video service is not available in all areas. Roku service activation requires a Roku user account which requires a valid credit card. A wide variety of Roku channels are available; some are free, while premium services are fee-based. Any additional charges will be billed to your Roku account. Monthly service rates are exclusive of taxes and other governmentally sanctioned fees and charges. Additional terms and conditions apply.