MyBackup
Introducing MyBackup From Green Mountain Access
MyBackup is only $3.95/month, which is an incredible value for the
protection of your valuable files!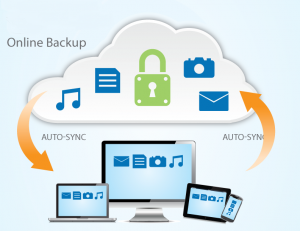 MyBackup is the ultimate backup solution for home users.  It will safely and automatically back up your files and store them securely at an offsite location. You gain peace of mind knowing your files are safe and readily accessible to you from anywhere via the Internet. Here's what your MyBackup subscription provides:
Secure encryption – Your data is protected using top-rate 256-bit encryption.
Ease of use – Simply select which folders and  files to backup and MyBackup does the rest.
Backup any file – Online backup of any file you want — no exceptions.
Automatic backup – Automatic backup of all selected files and folders — every day.

How MyBackup Works
Once you install MyBackup on your computer, you can then choose the folders you wish to back up. Your files are encrypted and transferred to our state-of-the-art storage centers via a safe connection. We even maintain a second copy of all files in a separate geographical location for double protection. It's that easy.
Try It Free For 30-Days
To order, simply log into the Application Portal using your GMA email address and password and click on the New Apps tab at the bottom of the App Launcher and select My Backup. Then simply follow the installation instructions. For more information, give us a call at 888-321–0815 or send us an email to learn more about MyBackup.
Priceless Protection For A Very Low Price
One low monthly rate – only $3.95.  Protect up to 1TB of storage on unlimited devices.
How Much is 1TB?
One terabyte is 1000 gigabytes, while a gigabyte is 1000 megabytes, and megabytes are 1000 kilobytes.  For comparison, the average computer has between 100 and 200 gigabytes on it's hard drive, so a terabyte hard drive has about 5 to 10 times the memory of a normal hard drive. For scale, the average MP3 file is 4 megabytes. A terabyte can hold around 250,000 MP3 files. Short answer, it's a lot of storage!