AirTies
A modern Wireless Access Point designed to mesh
We've partnered with AirTies to bring Whole Home WiFi to our customers. The AirTies 4920 Access Points are designed to cover your whole property in reliable WiFi with:
3×3 802.11ac and 2×2 802.11n dual band concurrent antennae
2.4Ghz and 5 Ghz capable
Two (2) Gigabit Ethernet ports
Speeds up to 1300Mbps asynchronous between devices
Mesh-capable
Advanced Interference Avoidance
Small form-factor
---
Equipment
Unlike traditional Wi-Fi, which relies on a single access point (AP) to provide coverage, Whole Home Wi-Fi utilizes multiple Access Points placed at strategic locations around your home to create an intelligent Mesh network that ensures consistent performance of high quality, whole-home Wi-Fi coverage.
Smartphones, tablets and other Wi-Fi client devices tend to make poor decisions when it comes to which access point to connect to – especially when on the move. These devices tend to stick with one Access Point (usually the first one it connects to) as long as it can still be seen, regardless of whether other Access Points or frequency bands might present better options. These "sticky clients" can decrease the entire network performance.
The intelligent AirTies 4920 dual-band mesh consistently analyzes the location, status, and performance of each of Wi-Fi client, then actively hands off the client to a better positioned Access Point ensuring maximum performance. If a dual-band capable device is settling for a connection on the slower 2.4GHz band, the system automatically steers this client to the 5GHz band not only improving the throughput performance of that particular device, but also alleviating congestion on the 2.4GHz band, boosting the performance of legacy single-band devices.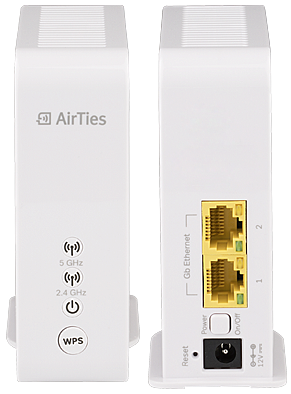 ---
Management & Monitoring
iOS App for Management
AirTies has an optional iOS application for iPhones and iPads that allows you to see details of your home network down to the device level. You can use this app to check the network health, device connectivity, and even run speed tests.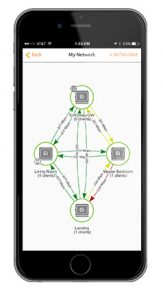 ---
Cloud Management for Support
If you call for technical support in the future, GMA support staff can view detailed health and network statistics concerning your Whole-Home WiFi network and help point out problem areas or troubleshoot connectivity issues.

---