Hosted IP Phone Service
Save time and money compared to an on-premise phone system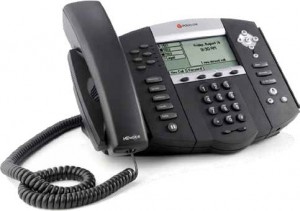 A reliable and efficient phone system is essential for your business to stay connected to your customers and suppliers as well as effectively carry on internal communications. You don't want to think about it too much; you just want it to work so you can focus on your business.
With Hosted IP phone service, you don't have to purchase, set up, or maintain your own phone system; we take care of that for you. Instead, you get a powerful, business-class phone system with expanded capabilities that will grow with you and all at a lower Total Cost of Ownership.
Key Benefits
Reduced Capital Investment – Unlike on-premise phone systems, there's no huge upfront investment in expensive hardware.
Low, Predictable Costs – We maintain and enhance the service for you, so there are no surprise maintenance, upgrade or replacement costs.
Easy Self-Management – Users have the ability to perform their own Moves, Adds, and Changes (MACs) via an intuitive web portal, eliminating the expense of service calls when you have employee moves or changes.
Flexibility to Meet Your Growing Needs – The flexible infrastructure can grow as your business grows; there are no limits to adding users, sites, and features.
A Secure and Reliable Solution – Our network will automatically handle calls and messages during power outages. In case of disaster, employees can forward calls to home or mobile phones.
Mobility Options for Remote or Home Workers – Employees can easily and seamlessly connect to your Hosted IP Phone Service over their home broadband connection and enjoy the same features they'd use at the office.
Choose the Features and Phones That Best Fit Your Needs
Hosted IP Phone Service is designed to meet the requirements of your business today as well as accommodate your future needs. Waitsfield Champlain Valley Telecom offers standard and premium service plus à la carte features and a full selection of Polycom phones.
Standard Hosted IP Phone Service provides standard calling features including Shared Line Appearance, Multiple Appearance Directory Numbers (MADNs), Call Pick-up Groups, and Short Code Dialing.
Premium Hosted IP Phone Service adds additional communications capabilities such as Unified Communications, Voice Mail, Caller ID, and more.
À la carte features include Auto Attendant and Incoming Call Manager (Find Me / Follow Me) and can be added to either standard or premium service.
A variety of Polycom SoundPoint IP phones are available for lease from Waitsfield Champlain Valley Telecom. They leverage the capabilities of our managed SIP-based VoIP network to deliver breakthrough voice quality and advanced features. There's a Polycom phone for every size business and every user station, from conference rooms to cubicles and front desks to executive offices.
FAQs
Q. How does Voice over Internet Protocol (VoIP) technology work?
A. Voice over Internet Protocol (VoIP) is a technology for communicating using "Internet protocol" instead of traditional analog systems. VoIP converts the voice signal from your telephone into a digital signal that can travel over the Internet. If you are calling a regular telephone number, the signal is then converted back at the other end.
Q. What will the transition be like from my current on-premise phone system to Hosted IP phone service?
A. It's easy to switch to Hosted IP phone service. We'll do everything possible to make it a smooth, seamless transition for your business. Since Hosted IP service can be delivered over your company's existing broadband Internet connection, all you need are business phones and we lease those to you.
Q. Does Hosted IP phone service make sense for a small business?
A. It absolutely does. With its flexibility and scalability, Hosted IP phone service can be a smart choice for a small "mom and pop" business all the way up to a large enterprise. What's more, the professional features of Hosted IP phone service can help a small business appear larger and more professional to its customers.
Case Studies
To find out how Hosted IP could save your business time and money, contact:
Kris Merchant
Sales Manager
(802) 496-8554