---
Business-Class Wi-Fi with Advanced Features
Whether you are looking for rock-solid, reliable wireless for your office staff and operations, or want a hot spot / captive portal for your customers or guests, our Business-Class Wi-Fi solution makes it easy. We make it easy. We take care of installation, integration, and support, even outside of our traditional telephone company service territory.
Easily Manage, Capture Data and Improve the Experience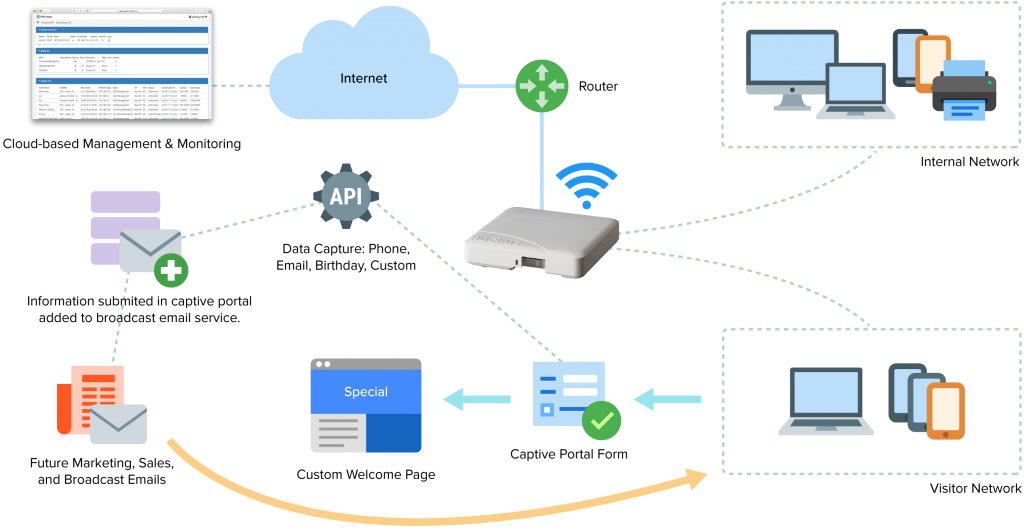 Learn About Features
---
---
Features
With so many wireless devices being connected to your network, it's virtually a given that your business needs to have a business class Wi-Fi network. So the real question becomes: Should you handle Wi-Fi as a do-it-yourself project or should you choose a Managed Business Class Wi-Fi from Green Mountain Access?
Cloud-based Management & Monitoring
We manage everything via our cloud-based controller (called a Virtual ZoneDirector). The ZoneDirector provides simplified configuration, ongoing control, and automatic coordination of all Ruckus ZoneFlex Wi-Fi access points. The Ruckus system marries the best of the centralized controller model with state-of-the-art advances in Wi-Fi radio frequency (RF) engineering such as beam steering, RF management, and interference avoidance delivered via "Smart Wi-Fi" antenna technology.
Specifically Designed for the Business Environment
Green Mountain Access uses commercial-grade, business class Wi-Fi access points, which provide stronger, more reliable, and more secure signals than the consumer grade Wi-Fi access points that are available through retail channels. In addition, the business class Wi-Fi access points in a managed system are all linked, ensuring that you always have the best possible Wi-Fi connection.
Flexible Network Design
The flexible Wi-Fi network infrastructure can grow as your business grows. Need additional coverage? No problem. We can easily add additional access points for a low monthly fee. We can also add a guest network to keep your business and customer traffic separate and highly secure.
Capture Data with Custom Captive Portal
With Business Class Wi-Fi you have the capability to create a captive portal, hotspot that gives customers the convenience of fast, free Wi-Fi. This also allows you to collect data such as e-mail and manage users.
Pricing Options and Advanced Features
We maintain and enhance the service for you, so there are no surprise maintenance, upgrade, or replacement costs. Plus, you have the option to lease or buy the Wi-Fi equipment. Whether you're a small office, and inn, or a larger business our goal is make sure each network is efficient and meets your needs and has the capacity to run smoothly at peek hours.

---
Pricing & Options
Business Class Wi-Fi offers competitive pricing options to accommodate any size of business, from your small-town shop to a multiple building campus. A range of products from companies like Ruckus Wireless, Ubiquiti Networks, and others allows our to team to design the most efficient network for your space and meet all your businesses needs.
---
Taking the Next Step
Just like other technical service calls, we can do all the work for you.
Simply fill out this form or call (802) 496-3991 if your business could benefit from better Wi-Fi and/or a lead-generating hot spot with captive portal.
Someone from Green Mountain Access will be in touch as soon as possible to talk about how you can improve your Wi-Fi network and even gain customers from it.

I Want To Learn More
For more information on how Managed Business-Class Wi-Fi can help your business, please complete this contact form and we'll be in touch soon.