SmartHub
What is SmartHub?
SmartHub is a web and mobile account management app that allows customers to:
Manage Your Account
Your account information is all in one convenient place you can access anywhere at any time.
View & Pay Your Bill
You can view the charges and set up a one-time credit card or bank payment or monthly automatic payments so you never have to worry about remembering a due date again.
Report Service Issues & Outages
With SmartHub, contacting us has never been easier. If you are experiencing an outage at your home, you can report that through SmartHub and provide other important details, which helps us identify the cause.
What Changed
---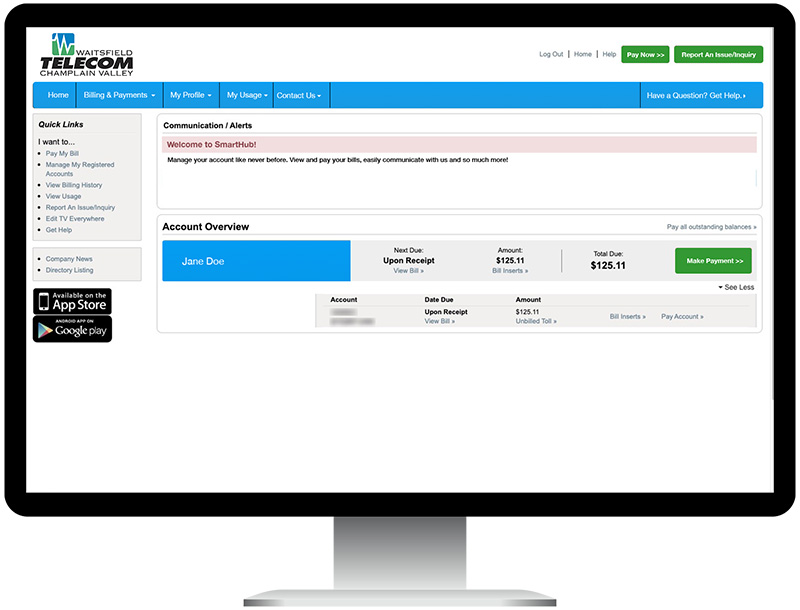 What Changed?
On June 5th, we upgraded to a new payment system called SmartHub. If you paid your account with a credit/debit card or if you were an Auto Pay customer, you must take action.
For a detailed explanation of your bill, visit the Understanding Your Bill page.
What Do You Need to Do?
You will need to create a new account in SmartHub. In addition, if you currently have your credit/debit card charged automatically every month, you will need to reenroll for Auto Pay.
To-Do List
---
Create Your SmartHub Account
The first thing you will need to do is register your account in our new SmartHub payment system.
Click the CREATE ACCOUNT button below.
Your account number will be required during the registration process. (Your account number can be found on your latest bill.)
Once successfully registered, please check your email to verify your account and set password.
Create Account
Download SmartHub to Mobile Device
If you would like to use the SmartHub app on your mobile device, follow these steps.
Open the App Store on your device and search for SmartHub.
Follow the instructions and on-screen prompts to install the app on your device.
After SmartHub opens to the initial launch screen, tap the appropriate button to search by Name. Search for the name WCVT and tap on our name in the search results list.
From the login screen, look for the link that says Don't have an account? Register now.
Fill out the registration form completely. Follow the prompts to complete your registration.
Re-Enroll or Sign Up for Auto Pay
If you currently have your credit/debit or bank draft charged automatically every month, you will need to re-enroll.
After you create a new account in SmartHub, log in and click on the Billing & Payments menu on the home page.
Click on the Auto Pay Program submenu.
Click on Sign Up for Auto Pay and follow the instructions on the screen.
Set Up Notifications
After creating an account in SmartHub, choose how you would like to receive notifications (email
or SMS).
Under the Notifications menu, click Manage Contacts to add email and/or text numbers.
Enter verification code to activate.
Click on Manage Notifications to set up email and/or SMS alerts using the contact info you entered.
---
Support
Visit our Knowledge Base for answers to frequently asked questions including:
We are here to help! Contact our Customer Service Department at 800-496-3391 if you have any questions.