A Tribute To Gregg Haskin
June 8th, 2018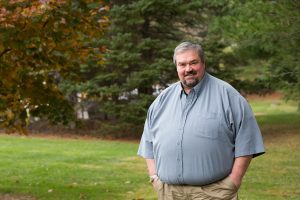 Gregg L. Haskin, 54, of Berlin, VT died unexpectedly on June 6, 2018 at his home in Berlin. Eric Haskin will now take over leadership of Waitsfield and Champlain Valley Telecom maintaining the family legacy.
Gregg was born May 15, 1964 in Montpelier to the late Eleanor (Farr) and Dana L. Haskin, Jr.  Gregg was a 1982 graduate of Harwood Union High School.  While in high school he discovered an interest in accounting and went on to attend Bentley College in Waltham, MA.  All through high school and college Gregg worked at the family business, Waitsfield Champlain Valley Telecom, alongside his parents, brother and sister, assisting installers, line crew, splicers or helping at the central office.  Early in 1999 he became Controller of the company and eventually Chief Financial Officer. He often called his co-workers at the company his "telephone family".
Gregg had many hobbies and interests.  He attained the rank of Eagle Scout in Troop 100 of Waitsfield, obtained his private pilot license, enjoyed golf, volunteering for animal rescue groups, going to camp, family events, his beloved Patriots and traveling, especially to Las Vegas.  However his true passion was cars.  What started out as "mud bogging" evolved into a professional racing career and Gregg and his vehicle "Risky Business" made numerous appearances in televised races on TNN and ESPN.  More recently he discovered drag racing and was in the process of building a top sportsman car to race at NHRA events.  Gregg spent many happy hours with his pals in his garage shop.
On September 8, 1996 he married his wife Roberta.  At first they resided at the Haskin camp in East Warren and moved to Berlin in 1997.  Gregg and Roberta had a common love of animals that resulted in many cats and dogs becoming their fur babies over the years.  They enjoyed their home, having friends and family to their camp, regular trips to the Outer Banks of North Carolina and traveling.
Gregg is survived by his wife, Roberta, brother Eric (Anna) of Waitsfield, brother Scott of Florida, nieces and nephews; Kianna Haskin, Samantha Simms, Shannon Simms, Derrick Haskin, Michael Simms and Jacob Simms, uncle Father Jay Haskin and aunt Ann Haskin Ways, as well as his extended family of brothers and sisters–in-laws, nieces and nephews and many, many friends. Gregg was predeceased by his sister, Susan Haskin Simms, on July 14, 2003. He will be missed by his loyal companions Cheddar, Biscuit, Brie and Manny.
Services
Funeral services will be held from the Waitsfield United Church of Christ on Thursday, June 14, 2018 at 11 a.m. with a reception to follow at Waitsfield Telecom. Interment will take place in the Waitsfield Village Cemetery.
For those who wish, memorial gifts would be appreciated to the Mad River Valley Ambulance Service, PO Box 305, Waitsfield VT 05673, or to Good Karma Rescue, 75 Brigham Lane, Essex Jct. VT 05452. Assisting the family is the Perkins-Parker Funeral Home and Cremation Service in Waterbury. To send online condolences, please visit Perkins-Parker's site or the funeral home Facebook page.