Champlain Valley Telephone Directory Now Available
February 26th, 2019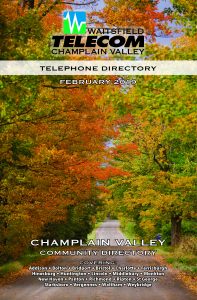 The 2019 Champlain Valley Telephone Directory is hot off the press and arriving in area mailboxes. Additional copies of the telephone directory are available at the Waitsfield and Champlain Valley business offices.
This year's cover was captured by local Waitsfield photographer, Dennis Curran. To view more of Dennis Curran's work, please visit his website at www.curranphotography.com.
For more information on the directory or to request additional copies, please contact Lorraine Keener at 496-8379 or via e-mail at lkeener@.wcvt.com.