Wi-Fi Calling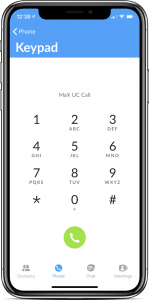 Take Your Office Anywhere!
MaX UC (formerly Accession Communicator Mobile) is an app for your Apple or Android smartphone or tablet and turns it into a portable extension of your home or office phone service with Wi-Fi calling.
Waitsfield and Champlain Valley Telecom understands that today's world is increasingly mobile and "always on." You don't just work at the office and neither should your phone. With MaX UC, you can "be reachable" from anywhere, but only if you want to be and all connected to your home or business phone number.
Save Time Do More With Wi-Fi Calling
These are just a few of the things you can do with Max UC on your phone, tablet or desktop when it is paired with your WCVT phone service:
Call from anywhere. Make and receive calls on your mobile device as though you were at your home or office.
Choose who sees your mobile number. With single number convenience, the person you call will see your WCVT phone number instead of your mobile number.
Receive calls on any device. When someone calls your primary number, the call will appear on one or more of the devices that you've set up. This can include your desk phone, mobile phone, PC, or Mac and tablet devices. You answer the call on whichever device is most convenient for you.
Save your mobile minutes. Start a call on Wi-Fi, switch it to cellular if you move out of Wi-Fi coverage.
Control incoming calls. Max UC allows you to determine how you can be, or want to be, reached at anytime.
Easy Setup
It's easy to download and install the app on your smartphone, tablet, PC or Mac. MaX UC can be downloaded from these sites at no charge. However, you must subscribe to MaX UC from Waitsfield and Champlain Valley Telecom for this application to work on your smartphone. Please give us a call at 800-496-3391 to subscribe.
To learn more about what MaX UC can do for you, contact:
Kris Merchant
Business Account Executive
802-496-8554
kmerchant@wcvt.com
Frequently Asked Questions
How much does it cost?
MaX UC is included with most Hosted IP installations. For residential or business telephone customers it is available al-a-carte at $2.45 per month for each line it is programmed on.
What happens if I dial 9-1-1 from the MaX UC app?
If you place a 9-1-1 call from the MaX UC app, it will attempt to make the call using the native cell phone dialer subject to availability and coverage limitations. 911 calls cannot be made from tablet devices at any time.
Can I install the MaX UC app on multiple devices?
Yes, if you have multiple devices, you can install the app on all of your devices. The app is free to download, but requires an active MaX UC subscription on the Waitsfield and Champlain Valley Telecom telephone number you want to use with the service.